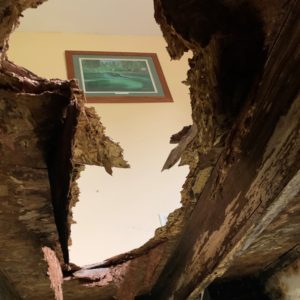 FHA/VA Approved Termite Inspections and form NPMA-33 for the lender delivered same day.
According to experts, within six months, a group of around 60,000 termites can eat the equivalent of 12 inches of a 2×4 piece of wood. Considering Subterranean termite colonies can have up to 2 million members – that's a lot of wood! What happens to the wood? In layman's terms the wood turns to pulp.
It's not only wood that termites eat. It's also wallpaper, plastics and fabrics.
Most mortgage companies and the FHA and VA now require a termite inspection with the results being documented on form NPMA-33. And it's not without good reason.
I have seen many homes where termite damage has caused damage well into tens of thousands of dollars. Homes that are now structurally unsafe. Whole floors and walls hanging by threads.
Subterranean termites are the most destructive kind of termite. They destroy building foundations, wooden beams, wooden joists, wooden anything, plumbing pipes, sub-flooring, insulation…
The photo to the side is from a home I inspected – the entire main floor had been structurally compromised. Termites and rot had eaten their way through most of the floor joists and sub flooring. This problem could have been avoided.
Here in Michigan City, South Bend, Elkhart, St Joseph, Benton Harbor, New Buffalo, Niles, South Haven, Buchanan, Paw Paw, Stevensville, Dowagiac, Bridgman, Berrien Springs, Sawyer, Coloma, Cassopolis, Three Rivers, and the surrounding areas, we are in termite country.
As a Licensed Certified Professional Home Inspector, I will do a complete Termite Inspection from bottom to top, outside and inside the home. A NPMA-33 form for your lender will be completed and emailed to you on the same day. During the termite inspection I will discuss any signs of termite or other wood destroying insect (WDI) damage with you with recommendations for next steps.
Because I am not in the business of selling and providing pest or termite control treatments, you can be assured that I will report on only what I find and not on what will require you to purchase another service from me.
Termite Inspections start at $150
Termite Inspections FREE with a home inspection
For more fun facts about termites read Termite Facts for Kids.